The winner in the open competition for designing a pedestrian bridge passing over Byala Cherkva Street in Ivan Vazov district, which will form a new connection between South Park Part II and South Park Part III is Boele Architects from the Czech Republic.
To achieve pedestrian connectivity and uninterrupted flow between two of Sofia's favorite park spaces.
To reduce the obstacles that pedestrians have to overcome and to connect the two parts of the park in a natural way at a different level to vehicle traffic.
To facilitate the natural pedestrian traffic between the two parks due to their proximity, popularity and their original urban connectivity.
To create visual and spatial communication between the two parks.
To ensure the merging of the three zones: South Park I (the area in front of the National Palace of Culture), South Park II and South Park III in one continuous and large-scale park space.
To increase pedestrian traffic and citizens' access to green areas.
The territory where the future pedestrian bridge will be constructed, its adjacent environment and alley network, as well as the necessary changes of the existing green spaces, is about 45 decares, located on both sides of Byala Cherkva Street. The impact area includes properties with different ownership, the bed of the Perlovska River, as well as part of the road and sidewalks of Petko Karavelov Street and Byala Cherkva Street.
Allows unimpeded and natural movement of large pedestrian flows between the two parts of the park.
Provides an elegant and modern structural and architectural design for a bridge over Byala Cherkva Street.
Ensures a harmonious and environmentally friendly connection between the bridge structure and the park spaces of South Park II and South Park III.
Provides an economically a
nd 
technically feasible solution.
The selection of the most appropriate proposal will become the basis for conducting further procedures by Sofia Municipality for the preparation of a new Detailed Plan of the area and a work phase investment project.
In their proposals, the teams must provide a specific conceptual solution in scope and content, which includes the following components:
• Urban planning
• Architectural and landscape solution
• Access
• Bicycle and alternative traffic
• Vertical communication
• Structural solution
• Cost estimation
You can download and view the full assignment HERE.
Urban planning functionality • Environment design • Bridge design • Economic feasibility
You can get acquainted with the evaluation methodology HERE.
Deadline for sending clarifying questions
Deadline for submission of projects
Deadline for submission of documents in the system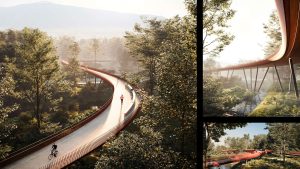 The winner of the open international competition for the conceptual design of a pedestrianbridge over South Park in Sofia has been announced. Boele Architects from
In relation to the received questions from the foreign participants about the registration in the Centralized Automated Information System "Electronic Public Procurement" (CAIS EOP), through which had to be submitted the documentation for participation in the competition, we publish detailed instructions for working with the system in English.